The differences between inline and offset hooks
Mike Valster
Many anglers ask about the difference between offset and inline points and we hope to give you a better understanding of the differences in this article. The definition of an offset hook is when the hook point is turned out slightly from the eye of the hook like the picture below. This slight offset increases the hooking percentages for an angler. The offset point also has the potential of increasing the mortality rate of released fish as it has a greater chance of a fish being gut hooked.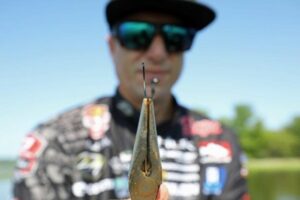 Inline points are "in line" with the eye of the hook and will lay flat when placed on a flat surface. Inline point hooks are preferred for anglers planning to release their catch and are required when pursuing many species due to local or state regulations. The majority of inline points are also most used by anglers that want to comply with specific tournament regulations.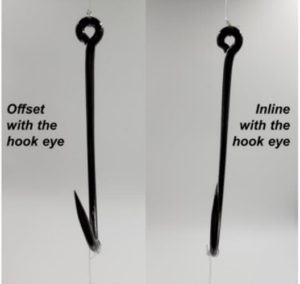 Many anglers assume all circle hooks are the same or "legal" for all areas, but circle hooks are also available with offset and inline points. The inline circle hooks are the ones that are "tournament legal" and required to fish in many tournaments. An inline circle hook is the best choice for anglers looking to safely release their fish.
Catch and release is often thought of most when chasing high profile fish like sailfish, marlin and tuna, but today many trophy anglers are planning to release their trophy catches. Whether an angler is chasing halibut, catfish or snapper many utilize inline circle hooks to safely release their catches and give those fish the best chances for survival by avoiding the gut hooking of fish. Circle hooks are more effective retaining fish when hooked by virtue of the design. There are several inline circle hook choices today for anglers to choose from. We take a quick look at the most popular choices Gamakatsu has to offer.
We start by looking at one of Gamakatsu's top selling hooks in the country. The Octopus Hook. It's available in the traditional style shown on the left. There are also two circle versions, the middle hook shows the Octopus Circle Offset Point and the final one is the Octopus Circle Inline Point.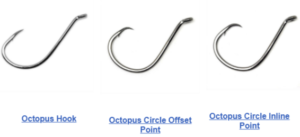 Gamakatsu has several choices of inline circle hooks in a wide range of sizes to accommodate anglers pursing any species. The 221 Octopus Circle Inline Point conforms with all tournament or state regulations requiring non-offset circle hooks. It's available in sizes 4-8/0 and comes in black (2214 series) and red (2213 series). In areas requiring barbless hooks, the Octopus Circle Inline is available in barbless sizes 3/0-5/0 in the 2244 series.
For anglers looking for a straight eye to snell their hooks or for different bait rigging options, the 265 Octopus Circle Straight Eye Inline point is the choice in sizes 6-8/0. This popular hook style is available in 25 packs and 100 packs when anglers are looking to bulk up. For anglers chasing the largest fish species there is a "beefed up" inline circle available with the 360 Series that features 4X wire to battle giants like snapper and monster grouper from reefs, wrecks and fortified hangouts.
No matter the species Gamakatsu has all the hooks to meet your needs. Make sure you fish with the world's finest hooks!